Commercial Air Conditioner & HVAC Equipment Covers
Custom-fit covers for hvac equipment shipping and storage
Protecting HVAC equipment during transit and storage is a tough challenge, especially when it must arrive to your customer in perfect condition. Corrosion, moisture, sun, snow, dust, road grime, rodents, and scratching are all hazards to the metal parts on heavy-duty equipment while in storage or transit. Transhield commercial air condition & HVAC equipment covers are the ideal solution to preventing these hazards from damaging a stored unit.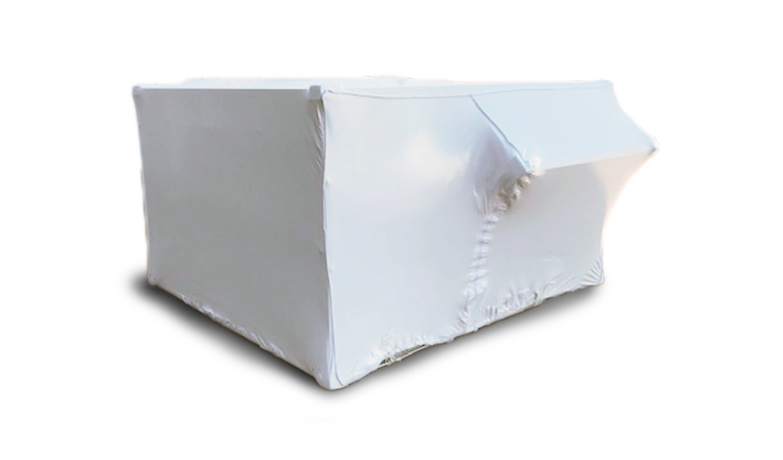 Why choose Transhield for HVAC equipment covers
Transhield has developed the most advanced fabrics to protect your machinery and equipment from costly and unpredictable environmental hazards. The custom-fit covers are easy to install and shrink to provide a snug, aerodynamic fit which keeps debris, dust, and dirt out of the equipment. The soft interior not only protects against etching and scratching, but also extracts moisture. What's more, the cover can be used while the unit is in operation.
Optional features provide ease of access to the unit for serviceability.
Zippers for ease of access
Vents to increase breathability
Various straps, buckles, and draw strings
Clear panel windows for inspection
Clamshell design for 360

°

seal
VCI additive for advanced corrosion protection
Uncover the Technology
Why Transhield Works
Advanced covers to protect your HVAC equipment
Custom Fit
Our Transhield design team will custom-tailor the cover you need to your specifications.
Waterproof
Our covers prevent water intrusion which leads to a product with little to corrosion or water damage.
Shrinkable
Our covers are all aerodynamic, leading to a tight and secure fit to protect your product.
Explore science and technology of protective covers
Learn more with OUR HVAC INFO SHEET
Talk with Transhield today: