Work for the
Leader in Custom Covers
We Need You
Sewing up close

Are you looking to make a difference in an industry that prides itself on quality, commitment, and reliability?
Do you have technical skills, like sewing, welding, or CAD design – with a touch of creativity – that you want to show the world?
Last question: Do you enjoy working as a team?
If you answered "Yes" to these questions, WE NEED YOU.
We're looking for reliable and dedicated people who take pride in their craft and want to show it off to fellow technical/creative people…and the world.
Current Openings
2/8/2021
Industrial Sewing
We're always looking for talented people to join our team. If you have the ability to read printed patterns and sew heavy duty material, let's talk!
About Us
Transhield – maker of protective covers – was founded in 1994 on the premise that nothing is impossible. No matter what the size or environment, we have the product and the design capability to produce a cover to meet our customers' needs.
Markets Served
Marine
Industrial
Military
Aviation
Wind power
Automotive
Rail
Oil and gas
Work Life and Benefits
As a member of the Transhield family, you'll have a great opportunity to learn new skills, make new friends, and create/manufacture some of the highest quality protective covers in the industry.
Transhield is dedicated to its employees. We provide competitive wages and benefits  because we value good employees and want you to stay for a long, long time.
How We Do It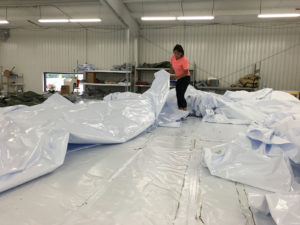 Every cover is handcrafted. Here's just a glimpse into how we do what we do:
We help our customers design a protective cover; based solely on their specifications and needs.
Once a prototype is approved, the pattern goes into production.
Several layers of fabric are pulled and nested on top of each other.
The pattern is sent to a plotting machine that uses a robotic arm to draw the cut and sew panels onto the fabric.
Once the pattern is drawn, the material is cut and prepared for assembly.
Assembly can be done by sewing or welding the material together depending on the fabric and desired seam.
Zippers, buckles, clamps, ties, handles, etc. are all added to complete the cover.
Inspection is done on every seam to ensure our quality standards are met.
Once approved, we fold and package the cover for shipment.
High five — Next!
We're proud of our process and our finished product – we think you will be too.